TAILORED MADE-TO-MEASURE SUITS
Stand taller, look slimmer and dress to impress with the help of a made-to-measure suit from First For Men. Whether you need a suit for a wedding, are looking to make a great impression at a job interview, or just want to upgrade your wardrobe we can help. Our made-to-measure suits are available in a huge range of fabrics and styles and we have options available to suit most budgets.
While off the peg suits offer convenience, they very rarely offer a perfect fit simply because every one of us is a slightly different shape and size. Another limitation of an off the peg suit is your choice of fabric and colour as these are normally chosen for mass-market appeal rather than individual preferences.
At First For Men, we have a selection of fine cloths and fabrics from top names in the business including Holland and Sherry of Saville Row, Huddersfield Fine Worsteds, Lear Brown & Dunsford and many more. Treat yourself to a perfectly fitting suit and enjoy the experience of picking your fabric, lining, style and finish all under the expert guidance of master tailor Garry Kirton who has over 40 years' tailoring experience.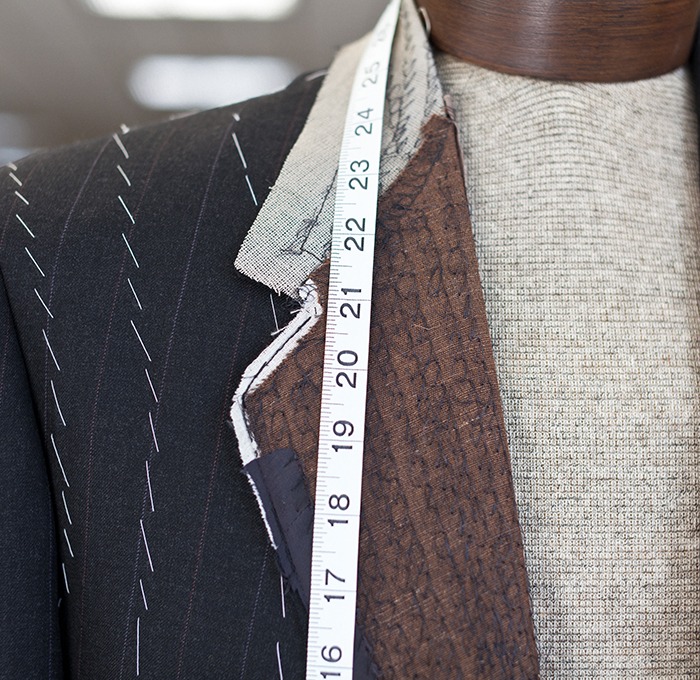 HOW DOES IT WORK?
The made-to-measure process is usually split into a couple of stages which are:
Initial consultation – This is the first part of the process and starts with a meeting with Garry to discuss what you want. Appointments are available at Garry's home in Coventry or his second home in Franksbridge near Hundred House in Wales. Alternatively, Garry is happy to travel to your home or office within 25 miles of Coventry or Franksbridge.
During the initial appointment, you will get to choose your fabric, the type of lining and style of suit that you would like. You will have a choice of hundreds of fabrics in different colours and weights as well as complementary lining materials.
Once you've selected your fabric and lining material, Garry will help you decide on a style of suit. Whether you have a style in mind already or are looking for advice, Garry will help you pick a style that will complement your body's natural shape.
The final stage of the consultation is to measure you for your suit. Using his years of experience and tailoring expertise, Garry will then transfer these measurements to the suit pattern ready for it to be manufactured.
FITTING APPOINTMENT
Your suit will normally take between 4 – 6 weeks to be made and it will be manufactured to your exact measurements. The fitting appointment gives you a chance to try on your finished suit and to check the fit. For most customers, the first fitting will be all that is needed as the suit will already have been tailored to your measurements.
To find out more about our tailored suits and to book your appointment get in touch with Garry today on 024 7704 9458.