Hi Garry,
I trust you are doing well.
After the wedding wind has settled, I wanted to thank you in person for the excellent service that you have provided; unfortunately since we moved house I am rarely in Cheylesmore anymore. Therefore, please accept my sincere thanks and appreciation via email.
You went the extra mile for us, provided an excellent service and product to make this the best day of Joni's and my life.
It truly blessed us both.
I have attached a picture showing the suit in all it's glory.
Thank you so much,
Johannes & Joni (by email, 1/11/19)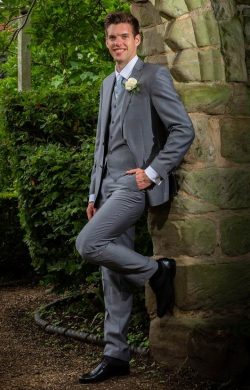 Hi Garry,
We have received the five pocket pants, we are really pleased with them and they arrived quickly as well
Hope you enjoy the royal wedding this weekend, I will be watching as I have a soft spot for Harry.
Thank you for allowing us to buy this from you.
Kind Regards,
Katrina (by email, 18/05/18)
Hi Garry,
That you so much for the trousers they are absolutely fab. (I looked this word up in my etymology book … this was first used in XV century in France… derived from fable. .. thought you might be interested!)
Yes, wonderful trousers, Thank you again.
Best wishes Tim (by email, 17/05/18)
Hi Garry
The sweaters have arrived safely, look amazing and it is wonderful to have genuine Gabicci again. It is so sad that such a reputable company should have fallen upon hard times as, in my opinion, the quality of their reasonably priced knitwear was second to none.
Thank you so much for your incredible customer service, definitely the best I have ever experienced, and for your impeccable courtesy and patience. It has been a pleasure dealing with you.
With kind regards and great appreciation
Carole (by email, 06/04/18)
I would like to send you my appreciation for the extraordinary service you provided for me in purchasing Mayer trousers.
I know that you spent some considerable time in tracking down the right trousers for me and after much searching you were able to find just what I was looking for.
Not only that, but you kept in contact with by phone to advise me of the status of my order frequently. Such brilliant and unique service. You also gave me sound advice on the size and cut of the trousers so that I purchased exactly the right size. This was not always what I thought should be the right size, but I trusted to your knowledge and in all cases you were right!
The trousers are not obtainable from anywhere else in the UK as far as I am aware and so I am doubly pleased.
All in all you found me four pairs of Meyer trousers that were not available anywhere else. Thank you once again.
Best wishes
Tim Studley (by email, 03/08/17)
Dear Garry,
I have received confirmation that my order has been accepted. I wish to compliment you on your customer service skills, your kind and helpful manner in dealing with my order. This has been greatly appreciated and I will certainly pass this on to colleagues and friends in the hope they too will visit your website and place an order.
Kind regards,
Jim (14/03/2016 by email)
"On a visit to "First for Men" my requirement was to have a suit which fitted well, looked good and would travel well for our daughter's wedding in America. The service, style and fit was just perfect, the personal attention to detail was excellent. With many thanks"Peter J McKeun(Snr)
"Many thanks for such a wonderful suit for my wedding and for getting it made in one go at such a short time. We really appreciated knowing I would look my Best on our happiest day together. May God richly Bless you and your family."
Mark and Liz
"uncle jack aged 91 insisted on having a new suit, so we went to "first for men" in cheylesmore. so they measured him up and we collected his suit today. I am so impressed by the fit, they have taken into account that his back is bent with age and one shoulder is slightly lower than the other. my uncle jack looks so smart, well impressed by the workmanship/tailoring. gota take him out now somewhere posh!!!!!!!"
Anne Dodd
"I have been a customer of First for Men for well over a decade and in all of that time, I have never failed to be impressed by the quality of stock, commitment and excellence of service I've received over the years. From providing tailoring to ordering bespoke suits – nothing is too difficult or too much trouble for Garry. I can't recommend First for Men highly enough."
André Simon
"My parents purchased two suits from you last April. I would like to pass on my thanks for the suits. Having now had the opportunity to wear each of the suits for various occasions, I have been most pleased with the fit and style.
Look forward to dealing with you again in the near future"
Gareth Hall
"I have known and used your bespoke as well as off the peg tailoring services in excess of 25 years, continuing to be a loyal customer because of the superior quality of service provided. My brother, who was an area manager for Ciro Citterio which was then the largest independent chain of men's outfitters in the Midlands, originally recommended you because he knew of my exacting standards. I remember specifying single breasted lapels on a double breasted design of jacket, specific colour of fabrics which were not fashionable at that time. You provided me with superb made to measure tailoring, to my exact specifications, and nothing was too much trouble
Over the years I have returned to you shop and you have always provided me with a superlative service.
This must be a very exciting and time for you, and may I wish you every success in your new venture."
Dr SK Sud – Dorridge